The MayaCell Class
This is a subclass of AbstractAutomata.Cell. It has four class variables that are shared by all instances of the class. For efficiency, each instance of MayaCell uses Maya's instance() proc to create a "copy" of single "master" object ie.
    self.tformNode = mc.instance(MayaCell.shape)[0]
By default, the master shape is a Maya polyPlane and the attribute that responds to the state of a MayaCell is the visibility of the shape. MayaCell overrides the __init__ method of its super class in order to create a Maya instance and to set its pivot point.
   def __init__(self, chance):
        # Call the super class init method
        CA.Cell.__init__(self, chance)
        self.tformNode = mc.instance(MayaCell.shape)[0]
        mc.xform(self.tformNode, piv = MayaCell.pivot)    
Setting the pivot is of no importance to a polyPlane but it is important when other Maya shapes are used. For example, before an instance of the MayaAutomata class is created the class variables of MayaCell can be assigned new values ie.
mc.delete(MayaCell.shape)
MayaCell.shape = mc.polyCube(w = 0.8, h = 0.8, d = 0.8)
MayaCell.attrName = ".scaleY"
MayaCell.attrIncr = 1
MayaCell.pivot = (0, -0.4, 0)
MayaCell has been written so that a variety of graphics can be produced easily. For example, figure 2 shows the effect of using a polyCubes whose scaleY attribute is "driven" by the number of times a cell was "alive" during 10 generations of the automata.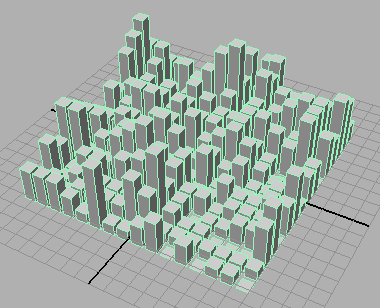 Figure 2
The setState() method enables a variety of potentially interesting visual effects to be easily achieved (figures 3 & 4). If the reader wishes the Maya shape that represents a cell to have more than one attribute effected by a cell's state they should create their own subclass of AbstractAutomata.Cell.