Linux and OSX users do not have to make any changes to the Cutter's Cpp preferences.
Setting the Devkit Path
All users must set the path to the devkit resouces. For example, on OSX it might be,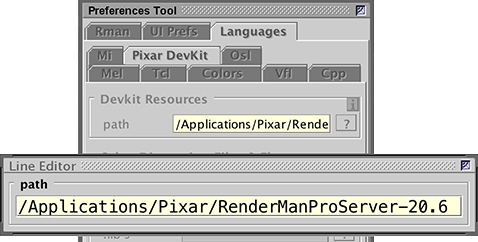 Figure 3
Setting the path to RPS - all users.
Header file Lookup
When editing a rif plugin source code file a popup menu (right mouse click) can be used to refer to a selected item. For example, to find the declaration of RiPointsV method...


Figure 4
Pixar header files may be conventiently opened by right mouse clicking on their name - figure 5.


Figure 5 - Opening a Header File
Typing Completion
After entering the first 3 characters of a word Cutter will open a typing completion popup menu. The tab key will insert the selected item.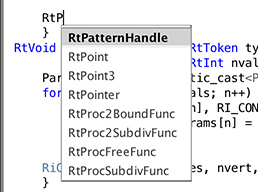 Figure 6
Lookup of Pixar's RifPlugin Documentation
Alt + double clicking on a word will open a browser and reference the rif plugin web page.