Overview
Cutter, version 5.3.5 and later, is designed to ease the task of writing, compiling and linking a 'C' language file that implements a RenderMan shadeop. Cutter's most important feature is that on Linux and MacOSX a shadeop 'C' language file can be directly compiled and linked without the need for the user to write a Makefile - figure 1.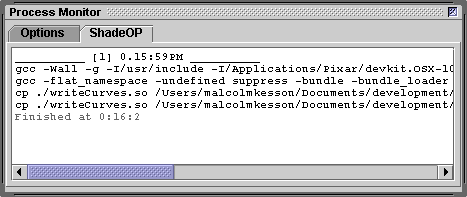 Figure 1 - Process Monitor echo'ing messages from make.
Cutter applies syntax coloration to a 'C' language file that it recognizes to be the source code of a shadeop. Recognition is based on finding one of following macros in the 'C' file, SHADEOP_TABLE, SHADEOP_INIT or SHADEOP_CLEANUP. Cutter also provides a quick way to access the Pixar web document that explains how shadeops are written. The document is located at,
    PATH_TO_PIXAR_DOCS/reference/DSO_shadeOps/dsoShadeOps.html
Option + double clicking on a word in the 'C' file will open the web document in Cutter's internal browser - figure 2.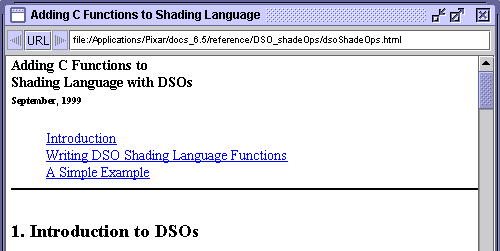 Figure 2
The browser will scroll to the first instance of the selected word. The next instance can be found by hitting the return key. Alternatively, option + shift + double clicking on a word will cause Cutter to display the web document in the users preferred external browser. Of course, this facility depends on Pixar's documentation being installed on the users computer.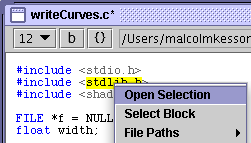 Figure 3
Lastly, Cutter enables a user to conveniently open an "#included" header file by control + clicking in the name of the header file - figure 3. Cutter automatically "expands" the selection to boundaries of the file name; the user does not have to manually select the name of the header file.