Rib - prman & 3delight
Users who render with prman and 3delight are aware of the incompatibilies between the two renderers. Typically, a user will duplicate a rib file so that one can be "tuned" for prman while the other is "tuned" for 3delight. An alternative approach is for prman and 3delight to renderer a rib file that uses conditional evaulation (IfBegin/IfEnd block). For example, specifying the appropriate display driver might be done as follows,
Listing 1 - conditional evaluation
---
    Option "user" "string renderer" ["prman"]
  
    IfBegin "$user:renderer == 'prman'"
        Display "untitled" "it" "rgba"
    Else
        Display "untitled" "idisplay" "rgba"
    IfEnd
---
To avoid the necessity of manually changing the value of the user:renderer option when the renderer is changed from, say, prman to 3delight, Cutter can be set to automatically edit the Option statement. The Options->Env tab of the Rman tool has a "Auto Settings" panel - figure 3.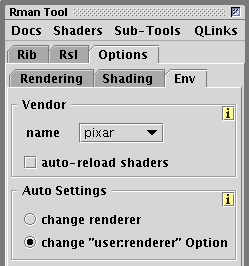 Figure 3
Selecting the change "user:renderer" button will ensure the value of,
    Option "user" "string renderer" ["prman"]
is automatically updated to match the currently selected renderer, either prman or 3deight, when a rib file is rendered. Alternatively, selecting the change renderer button forces Cutter to automatically select an "appropriate" renderer based on the parameters of the Display statement that it finds in a rib file. For example, this statement will cause Cutter to switch to using prman,
    Display "untitled" "it" "rgba"
Alternatively, if the Display statement specifies "idisplay" Cutter will switch to 3delight.