Osl Popup Menu
The (right mouse button) popup menu for .osl documents is now context sensitive. When activated in the parameter declarations block the following options are available.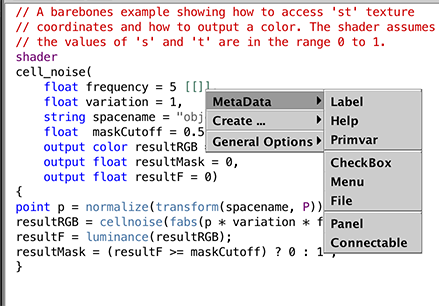 Figure 3

If the cursor is positioned within a metadata block ie. between opening and closing square brackets, [[ ]], metadata hints can be conveniently inserted. For example, in figure 3 if "Label" had been chosen the following metadata would have been inserted.
shader
cell_noise(
    float frequency = 5 
        [[
        string label = "Your Label",
        ]],
    float variation = 1,
If the popup is activated within the body of the shader the following options are available.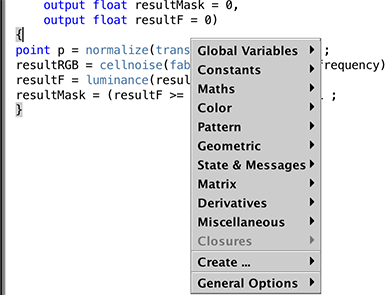 Figure 4

The Create... Args Script menu item offers a convenient way of creating an .args file that defines the equivalent UI. For example, the osl shown on the left would generate the args on right.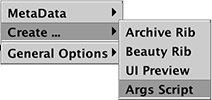 Figure 5