Work Flow
Step 1
Open the Slim shader editor and make an instance of the BaseVolume node.

Figure 2
The "Volume Density" parameter should be lowered to 0.1. Choose "Add to Scene" from the popup menu (right mouse button). This will create VolumeDensitySG shading group in HyperShade. Despite its name the BaseVolume shader is NOT a traditional volume shader. It is a surface shader that performs full spherical lighting calculations as it "steps" its way through a volume.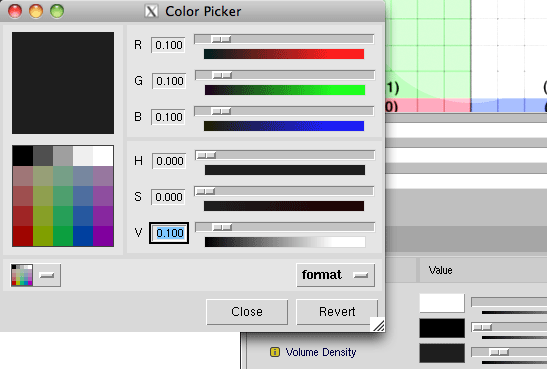 Figure 3
Step 2
Create spotlight and set its position and the location of its "target".
Ignore the remainder of step 2 when using RMS 18.
Choose the shape tab, for example, "spotLightShape1", and from the Attributes menu select,
RenderMan->Add Shadow Attrs
RenderMan->Add Custom Deep Shadow Map

Step 3
Ignore this step when using RMS 18.
Open the RenderMan Controls window and set the rmanDeepShadowPass to,
Resolution to 256
Shading Rate to 4

Step 4
Choose the transform tab, for example "spotLight1", and select,
Attributes->RenderMan->Add Custom Shading Group
Open the "Extra RenderMan Attributes" panel. Right mouse click in "Custom ShadingGroup" text field and choose BaseVolumeSG.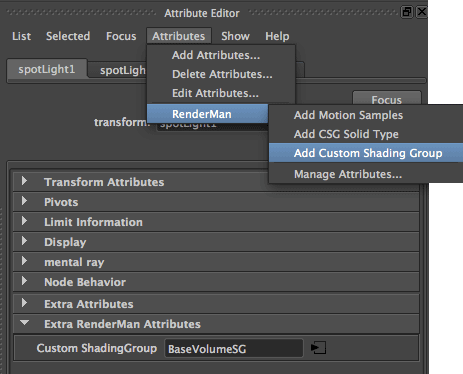 Figure 4