Step 7: Using Cutter to Compile a Shader
From the Templates menu choose Arnold Shader->mkSampleShader.cpp.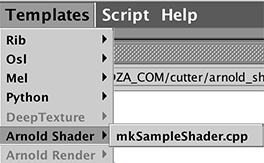 Figure 3
7.1 Save the file as mkU2Color.cpp in the,
maya/projects/Arnold_shaders/src_c++ directory.
7.2 Go to line 33 and change,
&nbsp node->name = "NAME_OF_YOUR_SHADER";
to
&nbsp node->name = "mkU2Color";
7.3 Use the keyboard shortcut Alt + e, Control + e or Apple + e to compile the shader.
7.4 Check the Process Monitor window to ensure the shader has been compiled.



Figure 4
If compilation has been successful the maya/projects/Arnold_shaders directory will contain two files, mkU2Color.dll or mkU2Color.so (depending on the operating system) and mkU2Color.mtd (an Arnold metadata file).
Step 8: Using Cutter to "Render" the Shader
Right mouse button click anywhere in the mkU2Color document. A popup menu will appear. Choose "Render Shader". Cutter will create and open a document named "mkU2Color.ass".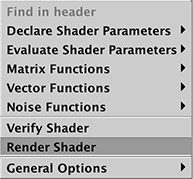 Figure 5
After a short pause a "kick" window will open showing the effect of the shader displayed on a sphere.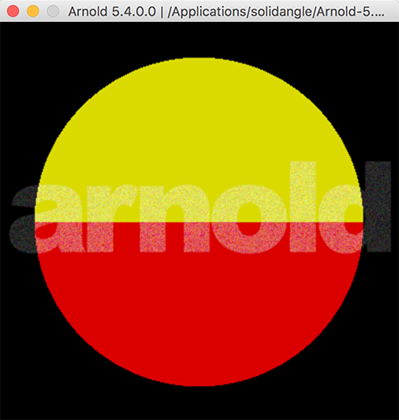 Figure 6
Edit line 36 of the mkU2Color.ass file so that the RGB values of the "patternColor 0.7 0 0" parameter become, say, "patternColor 0.7 0 1". Use the keyboard shortcut Alt + e, Control + c or Apple + e to render the .ass file. The lower part of the sphere should now become purple.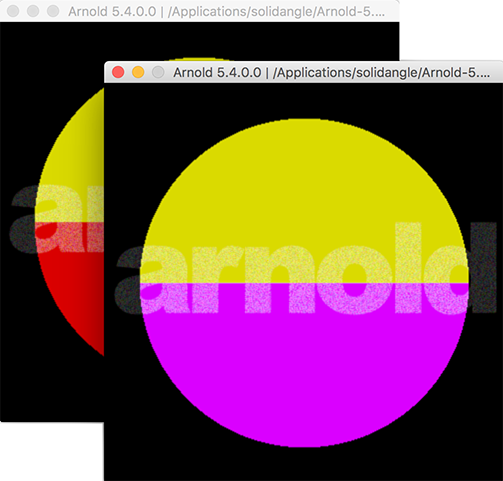 Figure 7
A good deal of shader developement can accomplished by modifying the shader C++ code, re-compiling and re-rendering without using Maya.
Step 9: Using the Shader with Maya
Each time Cutter is used to compile a shader it automatically generates/updates an Arnold metadata file. Look into the your Arnold_shader folder and you will find a file named "mkU2Color.mtd". It is this document that Arnold's mtoa plugin will expect to find when it attempts to load the users custom shaders. The .mtd files are maintained by Cutter so there is no need to open or edit their contents.

Launch Maya and open Hypershade. The mkU2Color node should appear in the Arnold/Utility section of the create panel.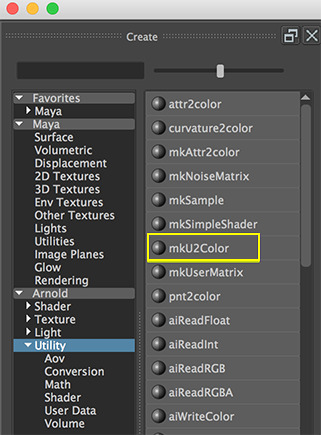 Figure 8
If the node does not appear it will because of one of the following reasons:
- the ARNOLD_PLUGIN_PATH environment variable is incorrect,
- the node->name = "mkU2Color"; (line 33) is incorrect.