Step 2.1 - Save and Edit the TCL Script
Save the TCL script as redleft.tcl in the Maya project directory. Change FILENAME.tcl so that it matches the name of the TCL script ie. redleft.tcl.

For example.
    #source [file join $RMSPROJ FILENAME.tcl]
to redleft.tcl,
    #source [file join $RMSPROJ redleft.tcl]
Step 2.2 - Copy and Execute the MEL Script
In Maya select the object that will be shaded by the OSL shader. Select its transform node then copy ALL the text of the MEL script to Maya's script editor. Make sure the script editor is using a MEL tab. Execute (run) the script and it will automatically add the attributes to the object's shape node that will enable the parameters of the OSL shader to be dynamically adjusted ie. animated.


Step 3 - Assigning a RIBBox in Maya
Assign any material to the object to be shaded with the OSL shader. Go to the material Shading Group and add a RIB Box.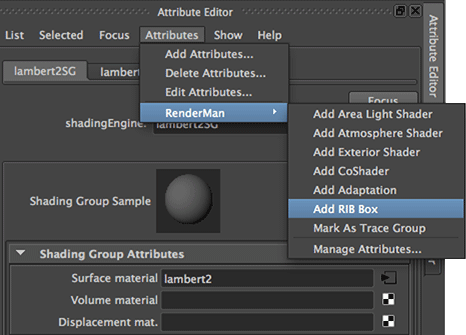 Figure 2
Step 3.1 - Using the TCL Code in the RIB Box
Change the "RIB Box Interpolation" to TCL - figure 3.

Copy the last five lines of commented code form the redleft.tcl script and paste the text into the RIB Box. Remove the # (TCL comment) character from each line. The wrapping of the text is of no importance.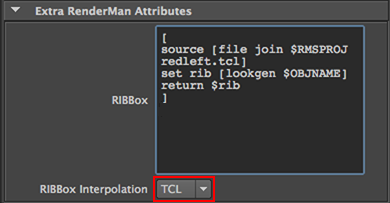 Figure 3
Render the scene to confirm the external TCL (redleft.tcl) is generating the shading statements.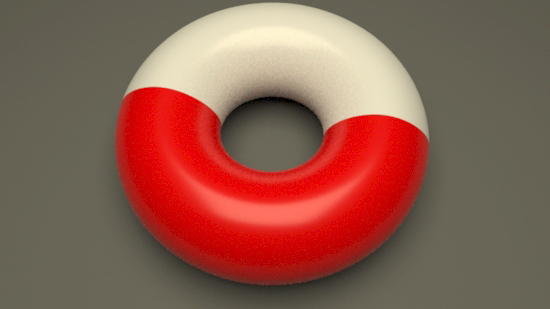 Figure 4