Maya Workflow
Generate Rib Archives
1. Create a proxy object, for example, a poly cube.
2. Select the proxy and run this mel command,
mocapUI();
3. Select the shape tab of the proxy to display the interface - figure 6.
4. Browse for a "MoCap Data File".
5. Ensure there is a RIB_Archive folder in your Maya project dirctory.
6. Set an end frame in Maya's Render Settings.
7. Run this mel commaand,
rman genrib;
Maya's time line will "scrub" during which time rib archive files will be created in the RIB_Archive folder. Please note the scripts assume that a sequence begins with frame 1.
Render the Rib Archives
1. Hide the proxy object.
2. From the RenderMan menu select "Archives->Create Node".
3. Browse for the first archive rib and set the Start/End Frame.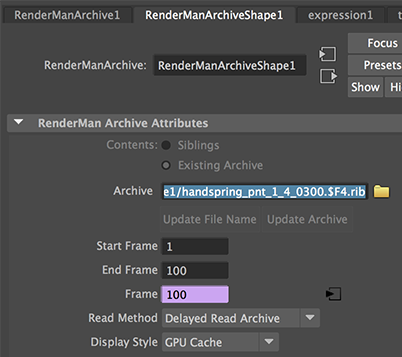 Figure 7

4. Change the numeric extension, say,
RIB_Archive/mocap/pCubeShape1/handspring_pnt_1_4_0300.0001.rib
to $F4,
RIB_Archive/mocap/pCubeShape1/handspring_pnt_1_4_0300.$F4.rib
5. Assign a material via Custom Shading Group on the transform node.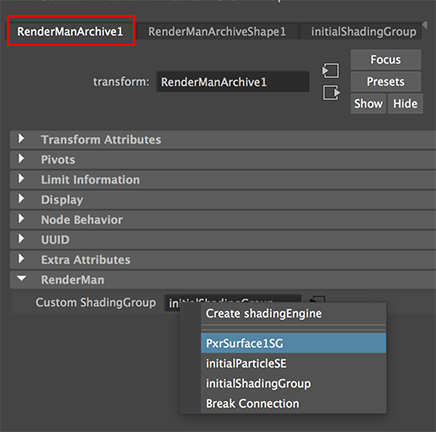 Figure 8

6. Finally, render and image and check if the baked geometry is correct.