Introduction
This tutorial presents a shader called attrToColor that creates colors controlled by the value of a float attribute. For example, figure 1 shows 2365 teapots colored randomly by the shader.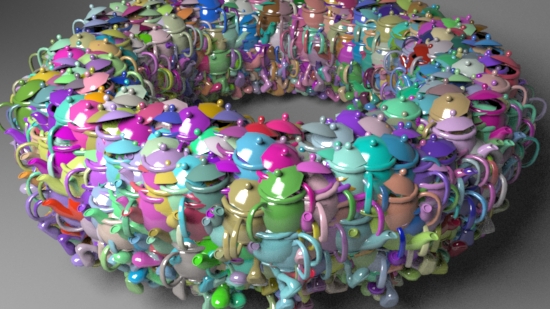 Figure 1


For information about this scene refer to the tutorial RiMel - ParticleInstancer. A section of the beauty pass rib shows that each teapot archive was assigned a unique user defined attribute named "particle_id".
TransformBegin 
    Translate -0.273621 -0.148285 -1.03048
    Rotate 0 1 0 0
    Rotate 291.711 0 1 0
    Rotate 0 0 0 1
    Scale 0.2 0.2 0.2
    Attribute "user" "float particle_id" [6]
    ReadArchive "RIB_Archive/pot.0021.rib" 
TransformEnd 
The OSL function getattribute() retrieves the value of a named attribute, for example,
float id;
getattribute(attrName, id);
where the value of attrName might be a custom attribute such as "user:particle_id" or a standard attribute such as "identifier:id".