Cutter & Writing Pattern Plugins
Writing a pattern plugin consists of using Cutter to create and add inputs and outputs to an ".args" file. After which, Cutter can be used to generate a ".cpp" file that will implement most of the (routine) code required by the RixPatter API. This tutorial demonstrates, step-by-step, how Cutter can be used to develop and test a simple RixPattern plugin named "CutrBBones". The plugin applies a color, figure 3, to an object where its surface exceeds a pre-defined 's' texture value. The full code for the ".args" and ".cpp" files are available here,
CutrBBones.args
CutrBBones.cpp

The tutorial also explains how a plugin is "registered" with RenderMan for Maya. For the purposes of this tutorial it is assumed the user has a Maya directory structure as explained in,
RfM: Customizing
and has created a "RfM_ris" and a "Args" sub-directory within their maya/projects folder. For example.
    maya/projects/
                |_ RfM_ris/
                |       |_Args/
                |       |    |_ [pattern.args files are kept here]
                |       |
                |       |_ [pattern.cpp files are kept here]
                |
                |_ RfM_ini/
                |       |_ RenderMan_for_Maya.ini
                |       |_ RMSWorkspace.ini
                |       
                |_other RfM_xxx directories
Creating a RixPattern Plugin
Step 1 - Creating a .args file
Select the Templates->Args->cutrEmptyPattern.args menu item.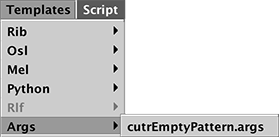 Figure 4


A basic .args document will open. Save it as,
    maya/projects/RfM_ris/Args/CutrBBones.args
Step 2 - Adding Inputs
Right-mouse click on the line immediately after the "Inputs begin" comment. From the popup menu choose,
Params/Inputs->color->swatch and
Params/Inputs->float->slider
figures 5 and 6.


Figure 5 - Adding a color parameter



Figure 6 - Adding a float parameter


Each param is identified by two strings, "name" and "label". The "label" string sets the title of the widget in HyperShade. However, the "name" string is more significant than the "label" because it must match an item in the C++ source code file of the plugin. Readers are strongly advised to think carefully about the value of the "name" string because changing it at a later date can be very tedious. Assign the following "name", "label" and "default" values to the inputs.